Lynn Sage Breast Cancer Foundation is proud to fund two types of research grants. Our Lynn Sage Annual Research Award is funded to any researcher while our Lynn Sage Scholar award is provided to young researchers within the first 7 years of their careers. All awards are allocated to researchers investigating novel and potentially groundbreaking theories in breast cancer. Our seed funding initiatives promote innovative theories and drive more substantial investment from large, governmental agencies.
Every Lynn Sage Breast Cancer Foundation grant provides vital seed funding for talented researchers to test theories and develop innovative solutions for everyone facing breast cancer.
Current Research Grants
Past Research Grants
Current Research Grants
Associate Professor of Physical Therapy and Human Movement Sciences and Medical Social Sciences at Northwestern University, Feinberg School of Medicine

A Pilot Test of the Breast Cancer Pre-habilitation and Prospective Surveillance to Prevent, Detect, and Optimize Physical and Functional Recovery (B-PREPeD)
The National Cancer Institute has identified a critical need for research that addresses short and long term physical and functional side effects (PFs) of cancer to advance health promotion and care
coordination particularly during the transition to follow-up care. This study will use a small randomized
controlled pilot test of a novel physical-therapy "pre-habilitation" intervention (Moving On After Breast
Cancer – MOve-ABC) designed to prepare and empower breast cancer (BC) patients and oncology
providers for prevention, early detection, and reduction of cancer-related PFs. Data from this study will
support a planned R01 grant submission to the NCI.
Hosmer Allen Johnson Professor of Pathology
Northwestern University, Feinberg School of Medicine

A novel deubiquitinase in breast cancer tumorigenesis and therapeutic targeting
A better understating of the molecular mechanisms by which breast cancer develops, progresses and spreads into distance organs is urgently needed. Over the last decade, our laboratory is among the first who identified an enzyme called USP22 as an oncogene for a variety of solid tumors including breast cancer. Preliminary studies in the currently application discovered that USP22 promotes breast cancer cell expression of surface molecules including PD-L1, CD73 and Integrins, which are involved in suppressing the antitumor immune response and facilitating tumor cell spreading into distance organs. We developed a USP22 inhibitor that can potentially kill breast cancer cells and enhance anti-tumor immunity. This study is to study how USP22 promotes breast cancer cell surface PD-L1, CD73 and Integrin expression and to evaluate the pre-clinical efficacy of USP22 inhibitor in breast cancer treatment.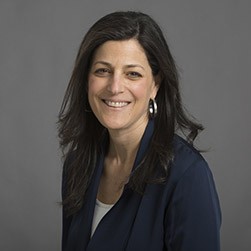 Assistant Professor, Diagnostic Radiology and Nuclear Medicine, Rush University

Automated methods for continuously measuring cancer detection rates for breast cancer supplemental screening modalities and risk-based populations
Dr. Stempel is focused on automating methods to continuously measure breast cancer detection rates for different types of breast imaging. This is an important quality measure of any breast cancer screening program. She will then compare the cancer detection rates for different risk-based sub-populations and use this data to refine local screening recommendations. This novel approach could have a significant impact on the future of breast cancer screening research and guideline development.
Past Research Grants
Current Scholars
Past Scholars
Current Scholars
Past Scholars
Current Scholars
Past Scholars
Current Scholars
Assistant Professor & Neurological Surgery
Lurie Cancer Center of Northwestern University

Targeting macrophage reprogramming in brain metastatic breast cancer
The most common metastasis of breast cancer is to the brain. Current therapies are not meaningfully improving survival. Tumor-associated macrophages (TAMs) in breast cancer usually display an alternatively activated (M2-like) phenotype, which suppresses antitumor immunity and aids in metastasis, including brain metastasis. Therefore, reprogramming TAMs from M2-to M1-like phenotype could be a promising therapeutic approach for metastatic breast cancer. However, the molecular basis governing macrophage reprogramming during breast cancer brain metastasis remains elusive and there is no effective approach to reprogram TAMs in the tumor microenvironment. We propose to employ integrated strategies to reveal whether and how TAM reprogramming contributes to breast cancer brain metastasis. We also plan to determine how TAM reprogramming can work with immune checkpoint inhibitors to suppress brain metastasis of breast cancer.
Assistant Professor of Biochemistry and Molecular Genetics
Northwestern University Feinberg School of Medicine

Delineate the role of TET2 mediating metabolic and epigenetic coordination in breast
Cancer
Approximately 70% of all breast cancers are due to hormone receptor (ER)-positive BCa. Currently, ER+ BCa diagnosed patients can be treated with hormone therapy via drugs, such as tamoxifen. However, this type of breast cancer can lead to reoccurrences many years after treatment. In this particular study, we have developed a new therapy by targeting metabolic signaling to overcome endocrine resistance in breast cancer.
Assistant Professor of Medicine
University of Chicago Medicine

Discovering novel biomarkers of therapy response and resistance in metastatic triple-negative breast cancer patients
Metastatic breast cancer (MBC) is an aggressive cancer for which there currently is no cure. However, there are many treatment options to help control the disease and allow patients to live longer. Despite available treatments, there is a limited understanding of how to select treatments for patients to better extend their survival. This study plans to look for changes in DNA which will help identify the treatment best suited to each patient. To achieve this, blood samples are collected from patients with MBC currently receiving treatment and changes in their DNA over time are studied to understand how these changes correlate with their response to treatment. The hope is to leverage this new dataset to develop a blood-based test which can help MBC patients select the most effective treatment.
Assistant Professor of Pathology
University of Chicago

Defining transcriptional signatures of triple-negative breast cancer
A tool of 'single-cell transcriptional profiling' (scRNA seq)—gives the ability to measure how much any single human gene in the entire genome is turned 'on' or 'off' within a single cell. Utilizing scRNA seq on patient tissue samples offers the potential to identify cell populations and genes responsible for disease pathology in a highly precise manner. In diseases like TNBC where there are no treatment options outside of routine chemotherapy, scRNA seq holds the potential to make precision medicine a reality. Our laboratory has created a new method, SCALES (Spectral Correlation Analysis of Layered Evolutionary Signals), to precisely identify drivers of pathology. Preliminary results show substantial promise in precisely defining transcriptional signatures of TNBC. This study is centered around validating statistical predictions with the goal of establishing a framework to identify high-value targets for gene therapy. If successful, we believe we can develop new treatments for TNBC, reflecting a new paradigm for data-driven precision medicine.
Past Scholars
Robert H. Lurie Comprehensive Cancer Center
Lynn Sage Symposium: For Scholars
Breast Cancer Treatment Handbook
Leadership: Nora Hansen, MD Contact: Burt Korman at 312.472.4779 or bkorman@nm.org