Lynn Sage Breast Cancer Foundation is proud to fund two types of research grants. Our Lynn Sage Annual Research Award is funded to any researcher while our Lynn Sage Scholar award is provided to young researchers within the first 7 years of their careers. All awards are allocated to researchers investigating novel and potentially groundbreaking theories in breast cancer. Our seed funding initiatives promote innovative theories and drive more substantial investment from large, governmental agencies.
Every Lynn Sage Breast Cancer Foundation grant provides vital seed funding for talented researchers to test theories and develop innovative solutions for everyone facing breast cancer.
Current Grants
Peiwen Chen, PhD
Assistant Professor & Neurological Surgery, Lurie Cancer Center of Northwestern University

Dr. Chen will employ integrated strategies to reveal whether and how TAM reprogramming contributes to breast cancer brain metastasis. He also plans to determine how TAM reprogramming can synergize with immune checkpoint inhibitors to suppress brain metastasis of breast cancer.
Huiping Liu, MD, PhD
Associate Professor, Pharmacology, Lurie Cancer Center of Northwestern University

Dr. Liu is working to advance breakthrough technologies, apply unprecedented single-cell mass spectrometry to breast cancer research, and target circulating tumor stem cells that mediate metastasis. Her ultimate goal is to synergize bedside and bench discoveries for development of new biomarkers and novel therapeutics.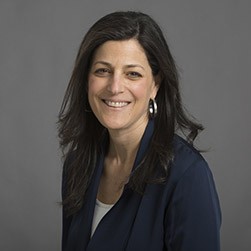 Lisa Stempel, MD
Assistant Professor, Diagnostic Radiology and Nuclear Medicine, Rush University

Dr. Stempel is focused on automating methods to continuously measure breast cancer detection rates for different types of breast imaging. This is an important quality measure of any breast cancer screening program. She will then compare the cancer detection rates for different risk-based sub-populations and use this data to refine local screening recommendations. This novel approach could have a significant impact on the future of breast cancer screening research and guideline development.
Past Grants
Current Scholars
Assistant Professor of Pharmacology and
Biomedical Engineering
Dr. Ji is an Assistant Professor of Pharmacology and Biomedical Engineering at Northwestern University Feinberg School of Medicine. He joins a prestigious group of current and former Lynn Sage Scholars diligently investigating new approaches to the detection and treatment of breast cancer.
"I am really excited to be selected as a Lynn Sage Scholar. I am deeply grateful for the generous funding of the genomics research in my lab as we tackle breast cancer," commented Dr. Ji upon receiving the award.
Dr. Ji's group is studying the steps of breast cancer progression by dissecting the gene regulatory network and RNA translation. As a Lynn Sage Scholar, Dr. Ji and his team will use unbiased, high-throughput genomic sequencing technologies and computational modeling in their project, "Characterizing the Gene Regulatory Landscape Mediating Breast Cancer Metastasis". His group's ultimate goal is to reveal novel therapeutic strategies for personalized cancer treatment.
"My lab carries out data-driven research, performs cutting-edge genomic sequencing experiments, and develops novel computational tools for integrative data analyses using machine learning and deep learning. The Lynn Sage Foundation provides us with an invaluable resource to pursue a brave idea for the cancer research in my lab."
Dr. Ji joined Northwestern University in 2018 and is a member of the Robert H. Lurie Comprehensive Cancer Center. He received his Ph.D. in computational genomics from Rutgers University in 2012 and completed his postdoctoral training in cancer systems biology and computational biology at Harvard Medical School and the Broad Institute of MIT and Harvard in 2017. Dr. Ji has received the NIH Pathway to Independence Award (K99/R00) and the Dean Morris Schaffer Endowed Scholarship from Rutgers University.
We look forward to personally introducing Dr. Ji to The Lynn Sage Foundation community at Summer Toast later this year.
Assistant Professor of Preventative Medicine,
Division of Cancer Epidemiology and Prevention
Dr. Hibler's lab is studying the biological links between behavior and breast cancer risk with the goal of using biological signatures to improve precision prevention programs among high-risk individuals. She is studying modifiable risk factors, such as physical activity and diet, and molecular biomarkers of primary and secondary prevention of breast cancer. She has evaluated the impact of diet and behavior interventions on circulating levels of inflammation and patterns of DNA methylation among both healthy adults and women at high risk for cancer.
As a Lynn Sage Scholar, Dr. Hibler is investigating associations between device-based measures of physical activity and DNA methylation by breast density status. High breast density is a recognized risk factor because it can mask breast cancer tumors on routine mammograms. However, it is not yet clear if the differences in high versus normal density breast tissue may also be related to changes in molecular signatures.
Dr. Hibler started as an Assistant Professor in the Northwestern University Feinberg School of Medicine in 2016. Her prior training included an MPH in health policy with a focus on epidemiology from the University of Michigan and a PhD in epidemiology with a minor in cancer biology from the University of Arizona. She then completed postdoctoral training in Cancer Prevention and Control at the University of Arizona Cancer Center and Molecular and Genetic Epidemiology of Cancer at Vanderbilt University. These unique training opportunities focused on laboratory-based molecular techniques, while expanding her skills in epidemiologic research to incorporate -omics biomarkers into population studies.
Past Scholars
Robert H. Lurie Comprehensive Cancer Center
Lynn Sage Symposium: For Scholars
Breast Cancer Treatment Handbook
Leadership: Nora Hansen, MD Contact: Burt Korman at 312.472.4779 or bkorman@nm.org